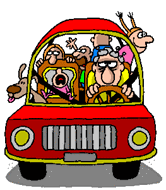 Make planning your vacation stress-free! We provide travel checklists on items to pack and travel planners for reservations, hotels bookings, and other info. Our printables will help you quickly and easily plan your next trip.

Our Travel Packing Checklist printable is a reminder of all the essential items that you need to pack for your vacation along with blank lines for you to fill in any extra. This checklist includes items such as clothes, medications, toiletries, entertainment, and important documents. Having this list available every time you go on vacation, will ensure that you don't forget anything that you might need to pack for your trip.

If you're planning on bringing your pet along, check out our cute Pet Packing List printable. This will ensure that you have everything that you need for your pet's health and safety. It consists of items to check off such as food, restraints, health supplies, cleaning supplies, important papers, and even has blank lines to fill in any extra items that you man need.

Keep track of all of your important travel information with our Travel Planner printable. With this you can save all of your departure and return information in one place for your plane / train reservations, hotel bookings, car rental services, and more.